New Super Nintendo Snes Mini Console, 2 Wireless Controllers 200+Games Installed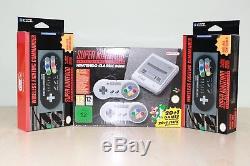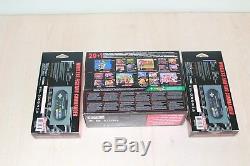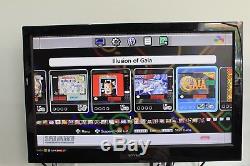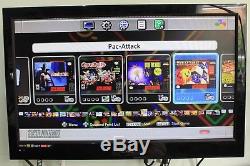 Snes mini Classic Console plus two new Hori wireless controllers all boxed and brand new. With total 204 snes games including the 21 original ones. Ive tested all the games and all run all English versions. Box art installed for all games. It is possible to, load more games on here but you need to leave quite a sizeable amount of storage for game saves so there is at least 50mb for this. Other sellers may say there are more games on theirs but just to be safe this is about the right amount. Also includes two brand new Hori wireless fighting commander controllers , these are officially licensed by Nintendo. Comes bxd new with the two wired original controllers and everything else you normally get includes hdmi cable, charger cable but you will need to plug into any usb charger socket or plug not supplied as standard.
21 original games that you normally get with the console. Doom Dragon's lair E.
Search For Eden Earthworm Jim Fatal Fury 2 Fifa Soccer 96 Final Fight Flnai Fight 2 Final Fight 3 Flashback Goof Troop Gradius 3 Harvest Moon Hebereke's Popoitto Home Alone Hyperzone Illusion Of Gaia Incredible crash Dummies James Ponds Crazy Sports Joe & Mac caveman Ninja Judge Dredd Jungle Book The Jungle Strike Jurassic Park Justice League Task Force Killer Instinct Kirby's Dream land 3 Knights of The Round Table Legend Legend Of Mystical Ninja the Lemmings Lemmigs 2 Tribes Lion King The Lost Vikings Lufia Lufia 2 Rise Of The Sinistrals Magical Quest Starring Mickey Mouse The Mario is Missing Marios Time Machine Marvel Super Heroes War Of The Gems Mary Shelley's Frankenstein Megaman X3 Megaman X2 Megaman 7 Megaman Soccer Micromachines Micro Machines 2 Turbo Might & Magic 2 Mortal Kombat Mortal Kombat 2 Mortal Kombat 3 Mr Do! Ms Pacman Mystic Quest Final fantasy Ninja Gaiden Trilogy Nosferatu Ogre Battle Out Of This World Pac Attack Pac man 2 New Adventures Paperboy 2 Parodius Peace Keeper The PGA Tour Golf Phalanx The Enforce Fighter Pilotwings Pinball Dreams Pocky & Rocky Pop N' twinbee Power Piggs Of The dark Age Prince Of Persia Puzzle Bobble Bust a Move R Type 3 Race Drivin' Raiden Trad Ren & Stimpy Show The Time Warp Rival Turf Rock n' Roll Racing Samurai Showdown Secret Of Evermore Seiken Densetsu 3 (English translation) Sensible Soccer Sensible Soccer International Edition Shadowrun Shaq Fu Sim City Sim City 2000 Simpsons The Barts Nightmare Skulljagger revolt Of The Westicans Soccer Kid Space Invaders Space MegaForce Sparkster Spawn Spectre Spiderman Spider man & Venom Maximum Carnage Spider Man & venom Seperation Anxiety Spindizzy Worlds Star Ocean (English Translated) Star Trek Star Fleet Academy Street Fighter Alpha 2 Street racer Stunt Racer Sunset Riders Super Adventure Island Super Adventure island 2 Super Battleship Super Bomberman 1 Super Bomberman 2 Super Bomberman 3 Super Chase HQ Super Double Dragon Super Mario Allstars Super Off Road Super R Type Super Smash TV Super Star Wars Super Star wars Return Of The Jedi Super Star Wars The Empire Strikes Back Super Street Fighter 2 The New Challengers Super Tennis Troll Islands Super Turrican T2 Terminator 2 the Arcade game Teenage Mutant Hero Turtles 4 Turtles in Time Terminator 2 Judgement day Terranigma Tetris & Dr. Mario Tetris 2 Theme Park Tom & Jerry Toy Story Un Squadron Ultima Runes Of Virtue 2 Ultimate Mortal Kombat 3 Unirally Urban Strike Utopia Wario's Woods Warlock Warpspeed Weaponlord Whizz Williams arcade's Greatest Hits Wing Commander Wizardry 1-2-3 Story of Llylgamyn Wolfenstein 3D World Class Rugby Worms WWF Raw WWF Super Wrestlemania X Men Mutant Apocalypse Yoshis Cookie Y's 3 Wanderers from ys Zero The Kamikaze Squirrel Zombies.
The item "New Super Nintendo Snes Mini Console, 2 Wireless Controllers 200+Games Installed" is in sale since Monday, July 23, 2018. This item is in the category "Video Games & Consoles\Video Game Consoles".
The seller is "simplesimon1966" and is located in Bolton. This item can be shipped worldwide.
Model: Nintendo Super NES Classic Mini
Colour: Grey
Type: Microconsole
MPN: Does Not Apply
A/V Output(s): HDMI
Brand: Nintendo
Platform: Multi-Platform