Snes Classic Mini Edition Modded With 450+ Super Nintendo Games! No Fillers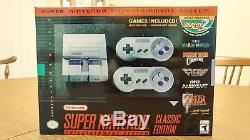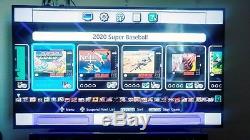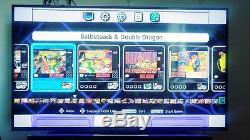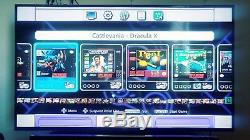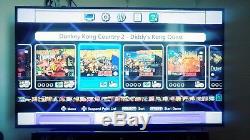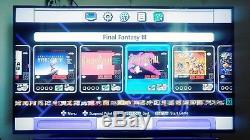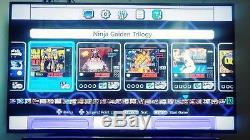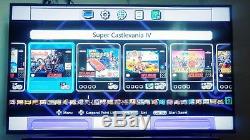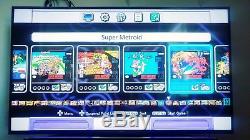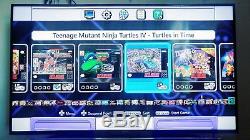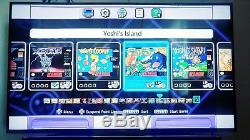 YOU ARE PURCHASING A BRAND NEW, SNES MINI EDITION CONSOLE THAT HAS BEEN MODDED TO INCLUDE 450+ SNES GAMES!! TURBO AND RESET MODIFICATIONS ARE INCLUDED AS WELL. THERE ARE 4 SAVE SLOTS PER GAME, ALONG WITH REWIND BEING FUNCTIONAL AS WELL. THERE ARE NO DUPLICA TE GAMES, NO NES, NO NEOGEO, OR ANY OTHER GAMING CONSOLE.
THERE ARE OTHER AUCTIONS THAT CLAIM TO HAVE 375+ GAMES, BUT THEY HAVE NES GAMES BUNDLED IN TO PAD THEIR NUMBERS. DON'T BELIEVE ME, GO LOOK FOR YOURSELF. IF YOU HAVE ANY QUESTIONS, PLEASE ASK. 2020 SUPER BASEBALL, 3 NINJAS KICK BACK, A.
AIR STRIKE PATROL, ABC MONDAY NIGHT FOOTBALL, ACME ANIMATION FACTORY, ACTRAISER, ADDAMS FAMILY VALUES, AERO FIGHTERS, AERO THE ACRO-BAT, AEROBIZ, AEROBIZ SUPERSONIC, AIR CALVARY, AL UNSER JR'S ROAD TO THE TOP, ALADDIN, ALIEN 3, ALIEN VS. PREDATOR, ALL-AMERICAN CHAMPIONSHIP FOOTBALL, AMERICAN GLADIATORS, ANDRE AGASSI TENNIS, ANIMANIACS, ARCADE'S GREATEST HITS, ARCADE'S GREATEST HITS - THE ATARI COLLECTION 1, ARCANA, ARDY LIGHTFOOT, ARKANOID - DOH IT AGAIN, ASTERIX, AXELAY, B. BALLZ 3D - FIGHTING AT ITS BALLZIEST, BARBIE SUPER MODEL, BARKLEY SHUT UP AND JAM! BEST OF THE BEST - CHAMPIONSHIP KARATE, BIG SKY TROOPER, BIKER MICE FROM MARS, BILL LAIMBEER'S COMBAT BASKETBALL, BIOMETAL, BLACKTHORNE, BLAZE0N - THE BIO-CYBORG CHALLENGE, BONKERS, BRAIN LORD, BRAM STOKER'S DRACULA, BREAK THRU!
BREATH OF FIRE, BREATH OF FIRE II, BRONKIE THE BRONCHIASAURUS, BRUNSWICK WORLD TOUR OF CHAMPIONS, BUGS BUNNY - RABBIT RAMPAGE, BULLS VERSUS BLAZERS AND THE NBA PLAYOFFS, BUST-A-MOVE, CACOMA KNIGHT IN BIZYLAND, CAL RIPKEN JR. BASEBALL, CALIFORNIA GAMES II, CANNON FODDER, CAPCOM'S MVP FOOTBALL, CAPCOM'S SOCCER SHOOTOUT, CAPTAIN AMERICA AND THE AVENGERS, CAPTAIN NOVOLIN, CASPER, CASTLEVANIA - DRACULA X, CHAMPIONS - WORLD CLASS SOCCER, CHAMPIONSHIP POOL, CHAMPIONSHIP SOCCER'94, CHESTER CHEETAH - TOO COOL TO FOOL, CHESTER CHEETAH - WILD WILD QUEST, CHOPLIFTER III, CHRONO TRIGGER, CHUCK ROCK, CLIFFHANGER, CLUE, CONGO'S CAPER, CONTRA III - THE ALIEN WARS, COOL SPOT, COOL WORLD, CYBER SPIN, CYBERNATOR, DAFFY DUCK - THE MARVIN MISSIONS, DARIUS TWIN, DAVID CRANE'S AMAZING TENNIS, DEMOLITION MAN, DEMON'S QUEST, DENNIS THE MENACE, DESERT STRIKE - RETURN TO THE GULF, D-FORCE, DIG & SPIKE VOLLEYBALL, DINO CITY, DIRT RACER, DIRT TRAX FX, DONKEY KONG COUNTRY, DONKEY KONG COUNTRY 2 - DIDDY KONG'S QUEST, DONKEY KONG COUNTRY 3 - DIXIE KONG'S DOUBLE TROUBLE, DOOM, DRAGON VIEW, DRAGON'S LAIR, DRAKKHEN, DREAM TV, EARTHBOUND, DUNGEON MASTER, EARTHBOUND JIM, EARTHBOUND JIM 2, ELITE SOCCER, EMMITT SMITH FOOTBALL, EQUINOX, EXTRA INNINGS, EYE OF THE BEHOLDER, F1 POLE POSITION, F1 ROC - RACE OF CHAMPIONS, FACEBALL 2000, FAMILY DOG, FAMILY FUED, FIFA INTERNATIONAL SOCCER, FINAL FANTASY - MYSTIC QUEST, FINAL FANTASY II, FINAL FANTASY III, FINAL FIGHT, FINAL FIGHT 2, FINAL FIGHT GUY, FIREPOWER 2000, FIRST SAMURAI, FOOTBALL FURY, FROGGER, FULL THROTTLE - ALL-AMERICAN RACING, F-ZERO, GEMFIRE, GENGHIS KHAN II - CLAN OF THE GRAY WOLF, GHOUL PATROL, GOAL! GODS, GOOF TROOP, GP-1, GRADIUS III, GUNFORCE - BATTLE FIRE ENGULFED TERROR ISLAND, HARLEY'S HUMONGOUS ADVENTURE, HEBEREKE'S POPOITTO, HEBEREKE'S POPOON, HIT THE ICE, HOME ALONE, HOME ALONE 2 - LOST IN NEW YORK, HOME IMPROVEMENT, HOOK, HUNGRY DINOSAURS, HYPER V-BALL, HYPERZONE, IMPERIUM, INCANTATION, ININDO - WAY OF THE NINJA, INSPECTOR GADGET, JACK NICKLAUS GOLF, JAMES BOND JR. - SPORTS EDITION, JIMMY CONNORS PRO TENNIS TOUR, JIMMY HOUSTON'S BASS TOURNAMENT U. JOE & MAC, JOE & MAC 2 - LOST IN THE TROPICS, JOHN MADDEN FOOTBALL, JOHN MADDEN FOOTBALL'93, KABLOOEY, KAWASAKI SUPERBIKE CHALLENGE, KENDO RAGE, KEN GRIFFEY JR.
PRESENTS MAJOR LEAGUE BASEBALL, KEVIN KEEGAN'S PLAYER MANAGER, KICK OFF, KICK OFF 3 - EUROPEAN CHALLENGE, KING ARTHUR'S WORLD, KING OF THE MONSTERS, KIRBY'S ADVENTURE, KIRBY'S DREAM COURSE, KIRBY'S SUPER STAR, LAGOON, LAMBORGHINI AMERICAN CHALLENGE, LAST ACTION HERO, LEMMINGS, LESTER THE UNLIKELY, LETHAL WEAPON, LOCK ON, LOST VIKINGS 2, LUFIA & THE FORTRESS OF DOOM, LUFIA II - RISE OF THE SINISTRALS, MADDEN NFL 95, MAGIC BOY, MAGIC SWORD, MANCHESTER UNITED CHAMPIONSHIP SOCCER, MARIO IS MISSING! MARIO PAINT, MARIO'S EARLY YEARS!
- FUN WITH LETTERS, MATH BLASTERS - EPISODE 1, MECAROBOT GOLF, MECHWARRIOR, MEGA MAN X, MEGA MAN X2, MEGA MAN X3, MEGA-LO-MANIA, METAL WARRIORS, MICKEY'S ULTIMATE CHALLENGE, MICRO MACHINES, MIGHT AND MAGIC II - GATES TO ANOTHER WORLD, MIGHTY MAX, MONOPOLY, MORTAL KOMBAT, MR. PAC-MAN, MUSYA, NBA ALL-STAR CHALLENGE, NBA JAM, NBA SHOWDOWN, NCAA BASKETBALL, NCAA FINAL FOUR BASKETBALL, NCAA FOOTBALL, NFL FOOTBALL, NHL'94, NHLPA HOCKEY'93, NIGEL MANSELL'S WORLD CHAMPIONSHIP RACING, NINJA GAIDEN TRILOGY, NOBUNAGA'S AMBITION, NOBUNAGA'S AMBITION - LORD OF DARKNESS, NOLAN RYAN'S BASEBALL, OBITUS, OGRE BATTLE - THE MARCH OF THE BLACK QUEEN, ON THE BALL, OPERATION EUROPE - PATH TO VICTORY, OPERATION LOGIC BOMB, OSCAR, OUT OF THIS WORLD, OUT TO LUNCH, OUTLANDER, P. PACIFIC THEATER OF OPERATIONS, PAC-ATTACK, PACKY & MARLON, PAPERBOY 2, PGA EUROPEAN TOUR, PGA TOUR GOLF, PHALANX - THE ENFORCE FIGHTER A-144, PILOTWINGS, PINBALL DREAMS, PINBALL FANTASIES, PINK GOES TO HOLLYWOOD, PIT-FIGHTER, PLOK! POCKY & ROCKY, POP'N TWINBEE - RAINBOW BELL ADVENTURES, POPULOUS, POPULOUS II - THRIALS OF THE OLYMPIAN GODS, POWER MOVES, POWER PIGGS OF THE DARK AGE, POWER RANGERS ZEO - BATTLE RACERS, POWERMONGER, PRINCE OF PERSIA, PRO QUARTERBACK, PRO SPORT HOCKEY, PUSH-OVER, Q-BERT 3, R.
RACING, RACE DRIVIN', RADICAL REX, RAIDEN TRAD, RAMPART, REALM, REDLINE F-1 RACER, REX RONAN - EXPERIMENTAL SURGEON, RIDDICK BOWE BOXING, RIVAL TURF! ROAD RIOT 4WD, ROAD RUNNER'S DEATH VALLEY RALLY, ROBOCOP 3, ROCKY RODENT, ROGER CLEMENS' MVP BASEBALL, ROMANCE OF THE THREE KINGDOMS II, RUN SABER, SECRET OF MANA, SHADOWRUN, SHANGHAI II - DRAGON'S EYE, SHAQ FU, SIDE POCKET, SIMCITY 2000, SIMEARTH - THE LIVING PLANET, SINK OR SWIM, SKULLJAGGER - REVOLT OF THE WESTICANS, SKYBLAZER, SMART BALL, SMASH TENNIS, SNOW WHITE IN HAPPILY EVER AFTER, SONIC BLAST MAN, SOS, SPACE FOOTBALL - ONE ON ONE, SPACE INVADERS, SPACE MEGAFORCE,KY'S QUEST, SPECTRE, SPIDER-MAN AND THE X-MEN - ARCADE'S REVENGE, SPINDIZZY WORLDS, STAR FOX, STAR FOX 2, STAR TREK - DEEP SPACE NINE - CROSSROADS OF TIME, STAR TREK - STARFLEET ACADEMY - STARSHIP BRIDGE SIMULATOR, STEEL TALONS, STERLING SHARPE - END 2 END, STREET COMBAT, STREET FIGHTER II TURBO: HYPER FIGHTING, STRIKE GUNNER S.
STUNT RACER FX, SUNSET RIDERS, SUPER ADVENTURE ISLAND, SUPER ADVENTURE ISLAND II, SUPER BASEBALL SIMULATOR 1.000, SUPER BASES LOADED, SUPER BATTER UP, SUPER BATTLESHIP, SUPER BATTLETANK - WAR IN THE GULF, SUPER BLACK BASS, SUPER BOMBERMAN, SUPER BOMBERMAN 2, SUPER BONK, SUPER BOWLING, SUPER BUSTER BROS. SUPER CASTLEVANIA IV, SUPER CHASE H. SUPER CONFLICT - THE MIDEAST, SUPER DOUBLE DRAGON, SUPER GHOULS'N GHOSTS, SUPER GOAL! 2, SUPER GODZILLA, SUPER ICE HOCKEY, SUPER MARIO KART, SUPER MARIO RPG: LEGEN OF THE SEVEN STARS, SUPER MARIO WORLD, SUPER METROID SUPER MORPH, SUPER NINJA BOY, SUPER NOVA, SUPER OFF ROAD, SUPER OFF ROAD - THE BAJA, SUPER PINBALL - BEHIND THE MASK, SUPER PLAY ACTION FOOTBALL, SUPER PUNCH-OUT!! SUPER PUTTY, SUPER R-TYPE, SUPER SCOPE 6, SUPER SLAM DUNK, SUPER SLAP SHOT, SUPER SMASH T. SUPER SOCCER, SUPER SOCCER CHAMP, SUPER SOLITAIRE, SUPER STAR WARS - RETURN OF THE JEDI, SUPER STRIKE EAGLE, SUPER TENNIS, SUPER TROLL ISLANDS, SUPER TURRICAN, SUPER WIDGET, SUZUKA 8 HOURS, SYVALION, TAZ-MANIA, TECMO SECRET OF THE STARS, TECMO SUPER BOWL, TECMO SUPER NBA BASKETBALL, TEENAGE MUTANT NINJA TURTLES - TOURNAMENT FIGHTERS, TEENAGE MUTANT NINJA TURTLES IV - TURTLES IN TIME, TETRIS & DR. MARIO, TETRIS 2, TETRIS ATTACK, THE ADDAMS FAMILY, THE ADDAMS FAMILY - PUGLEY'S SCAVENGER HUNT, THE ADVENTURES OF BATMAN & ROBIN, THE ADVENTURES OF DR. FRANKEN, THE ADVENTURES OF KID KLEETA, THE BLUES BROTHERS, THE BRAINIES, THE CHESSMASTER, THE DEATH AND RETURN OF SUPERMAN, THE DUEL - TEST DRIVE II, THE FIREMEN, THE GREAT WALDO SEARCH, THE HUNT FOR RED OCTOBER, THE IGNITION FACTOR, THE INCREDIBLE CRASH DUMMIES, THE IREM SKINS GAME, THE JETSONS - INVASION OF THE PLANET PIRATES, THE LAWNMOWER MAN, THE LEGEND OF THE MYSTICAL NINJA, THE LEGEND OF ZELDA: A LINK TO THE PAST, THE LOST VIKINGS, THE MAGICAL QUEST STARRING MICKEY MOUSE, THE MIRACLE PIANO TEACHING SYSTEM, THE NINJA WARRIORS, THE PIRATES OF DARK WATER, THE REN & STIMPY SHOW - BUCKEROOS! THE REN & STIMPY SHOW - FIRE DOGS, THE ROCKETEER, THE SIMPSONS - BART'S NIGHTMARE, THE SUPER AQUATIC GAMES STARRING THE AQUABATS, THE TERMINATOR, THEME PARK, THUNDER SPIRITS, TIME SLIP, TIME TRAX, TKO SUPER CHAMPIONSHIP BOXING, TOM & JERRY, TOMMY MOE'S WINTER EXTREME - SKIING AND SNOWBOARDING, TONY MEOLA'S SIDEKICKS SOCCER, TOP GEAR, TOP GEAR 2, TOTAL CARNAGE, TOYS, TRODDLERS, TRUE GOLF CLASSICS - WICKED 18, TURBO TOONS, U. SQUADRON, ULTIMA - RUNES OF VIRTUE II, ULTIMA VI - THE FALSE PROPHET, ULTIMA VII - THE BLACK GATE, ULTRAMAN - TOWARDS THE FUTURE, UNCHARTED WATERS, UTOPIA - THE CREATION OF A NATION, VIRTUAL SOCCER, VORTEX, WAR 3010 - THE REVOLUTION, WARIO'S WOODS, WARPSPEED, WE'RE BACK! - A DINOSAUR'S STORY, WHEEL OF FORTUNE, WHEEL OF FORTUNE - DELUXE EDITION, WHIRLO, WHIZZ, WILD GUNS, WILDSNAKE, WINGS 2 - ACES HIGH, WOLFCHILD, WOLFENSTEIN 3D, WORDTRIS, WORLD CLASS RUGBY, WORLD LEAGUE SOCCER, WORLD SOCCER'94 - ROAD TO GLORY, WORMS, X ZONE, XARDION, YOSHI'S COOKIE, YOSHI'S ISLAND, YOSHI'S SAFARI, YS III - WANDERERS FROM YS, ZOMBIES ATE MY NEIGHBORS, ZOOP. The item "SNES CLASSIC MINI EDITION MODDED WITH 450+ SUPER NINTENDO GAMES! NO FILLERS" is in sale since Saturday, November 11, 2017. This item is in the category "Video Games & Consoles\Video Game Consoles". The seller is "lars5035" and is located in Lincoln, Delaware. This item can be shipped to United States, Canada, United Kingdom, Denmark, Romania, Slovakia, Bulgaria, Czech republic, Finland, Hungary, Latvia, Lithuania, Malta, Estonia, Australia, Greece, Portugal, Cyprus, Slovenia, Japan, Sweden, South Korea, Indonesia, Taiwan, Thailand, Belgium, France, Hong Kong, Ireland, Netherlands, Poland, Spain, Italy, Germany, Austria, Russian federation, Israel, Mexico, New Zealand, Philippines, Singapore, Switzerland, Norway, Saudi arabia, Ukraine, United arab emirates, Qatar, Kuwait, Bahrain, Croatia, Malaysia, Brazil, Chile, Colombia, Costa rica, Panama, Trinidad and tobago, Guatemala, Honduras, Jamaica, Antigua and barbuda, Aruba, Belize, Dominica, Grenada, Saint kitts and nevis, Saint lucia, Montserrat, Turks and caicos islands, Barbados, Bangladesh, Bermuda, Brunei darussalam, Bolivia, Ecuador, Egypt, French guiana, Guernsey, Gibraltar, Guadeloupe, Iceland, Jersey, Jordan, Cambodia, Cayman islands, Liechtenstein, Sri lanka, Luxembourg, Monaco, Macao, Martinique, Maldives, Nicaragua, Oman, Pakistan, Paraguay, Reunion, Dominican republic, El salvador.
Platform: Nintendo Super NES Classic Edition
Brand: Nintendo
Model: Nintendo Super NES Classic Edition
MPN: 105956
Region Code: Region-Free
Color: Gray
Hard Drive Capacity: 512MB