Super Nintendo Classic Edition Console SNES Mini Entertainment System 450+ Games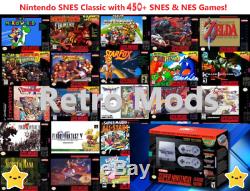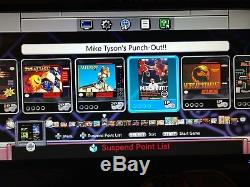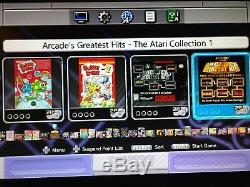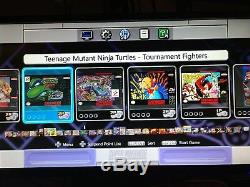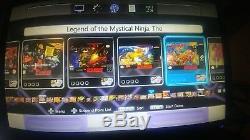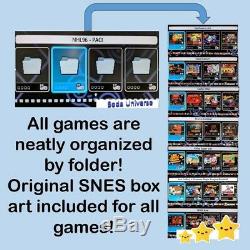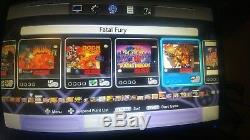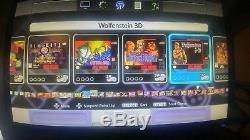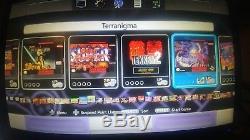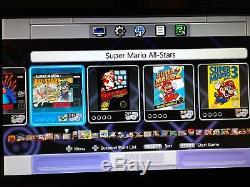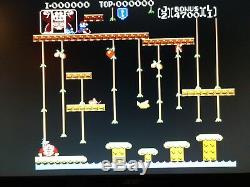 Brand New 100% Authentic SNES Classic Edition w/ Top 450+ Games from SNES + NES. Games are neatly sorted in separate folders in alphabetical order. Save States for each SNES and NES Games. Full Games That Play Great from Start to Finish! Can't find the game you want? Message me to get it added! Quick Reset Enabled - Hold Down D-pad + Select. No longer have to press reset manually on console to leave game just do it straight from controller. Games will be arranged neatly in alphabetized folders.
This unit offers a wide variety of genres ranging from role playing, Fighting, sports, action-adventure, and etc. All the Mario Games and all Donkey Kong games included! Full accurate box art for every game.
Save space for every game. Don't see a game that you'd like that's not on the list? Brand New SNES Mini Console. SNES and Nes games List. ++Techmo Super Bowl 2019 w/ Up-to-date 2018-19 Rosters++.
Madden NFL'98 plus all the games listed below! 1943: The Battle of Midway.
Adventures of Batman and Robin. Adventure Island (1, 2, & 3). Arcade's Greatest Hits - The Atari Collection 1 (Asteroids/Battlezone/Centipede/Missle Command/Super Breakout/ Tempest).
Williams Arcade's Greatest Hits (Defender/ Defender 2/ Joust/ Robotron 2004/ Sinistar). Boogerman - A Pick and Flick Adventure. Bubsy in Claws Encounters of the Furred Kind. Bugs Bunny - Rabbit Rampage.
Captain America and The Avengers. Castlevania 2 : Simon's Quest. Castlevania 3 : Dracula's Curse. Chip'n Dale Recue Rangers. Chip'n Dale Rescue Rangers 2.
Contra III: The Alien Wars. Daffy Duck - The Marvin Missions.
Death and Return of Superman. Desert Strike - Return to the Gulf. Donald Duck - Maui Mallard.
Donkey Kong 3 (Arcade Version). Donkey Kong Country 3 (Dixie Kong's Double Trouble).
Double Dragon 2 : The Revenge. Double Dragon 3 : The Sacred Stones. Double Dragon V : The Shadow Falls. Dragon - The Bruce Lee Story.
EVO: The Search for Eden. Flashback: Quest for the Identity. Flintstones: Treasure of Sierra Madrock. George Foreman's KO Boxing. Gold Metal Challenge'92 Capcom.
Great Circus Mystery Starring Mickey & Minnie. Jetsons, The - Invasion of the Planet Pirates. Jim Power : The Lost Dimension in 3D. Jurrasic Park II - The Chaos Continues.
King of the Monsters 2. Legend of The Mystical Ninja.
Legend of Zelda : A Link to the Past. Lufia & the Fortress of Doom. Lufia 2: Rise of the Sinistrals.
Magical Quest Starring Micky Mouse. Marvel Super Heroes - War of the Gem. Michael Jordan - Chaos in the Windy City. Mickey Mania Timeless Adventures of Mickey Mouse. Mighty Morphin Power Rangers: The Movie.
Mike Tyson's Punch Out! Ogre Battle - The March of the Black Queen. Pac-Man 2 -The New Adventures. Parasol Stars : The Story of Bubble Bobble.
Pirates of Dark Water, The. Power Rangers Zeo - Battle Racers. Prince of Persia 2 : The Shadow & The Flame.
Puzzle Bobble : Bust a Move. Ren & Stimpy Show, The - Veediots! The Simpsons : The Itchy & Scratchy Game. Spider Man and the X-Men : Arcade's Revenge.
Super Battletank : War in the Gulf. Super Mario (1, 2, & 3). Super Star Wars Return of The Jedi. Super Star Wars The Empire Strikes Back. Teenage Mutant Ninja Turtles Tournament Fighters. Teenage Mutant Ninja Turtles IV - Turtles in Time. Feel free to ask any questions.
Note: Please be sure your address is correct when purchasing. The item "Super Nintendo Classic Edition Console SNES Mini Entertainment System 450+ Games" is in sale since Thursday, January 3, 2019. This item is in the category "Video Games & Consoles\Video Game Consoles". The seller is "katibertsc_0" and is located in Toledo, Ohio. This item can be shipped worldwide.
Modified Item: No
Type: Home Console
Manufacturer Color: Gray
A/V Output(s): HDMI
UPC: 0045496590758
Brand: Nintendo
Model: Nintendo Super NES Classic Edition
Platform: Nintendo Super NES Classic Edition
Color: Gray
Region Code: Region-Free
Hard Drive Capacity: 512MB
MPN: 105956