Super Nintendo Mini (SNES MINI) MODDED TOP 100 + 21 Games, Special Delivery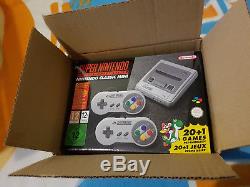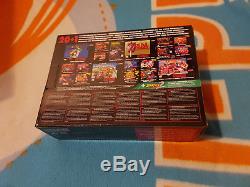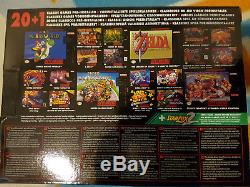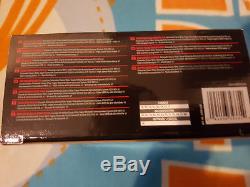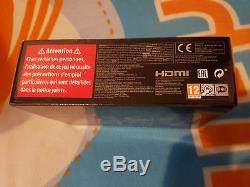 FOR SALE: Super Nintendo Mini (SNES MINI) 2017 Version. This console is out of stock everywhere - get hold of it for Christmas now. The console is new and unused, boxed and complete with all accessories you would expect.
Miniature console with HDMI output so it will surely look great on your large LCD/Plasma displays. The console comes built in with 21 games (including the unreleased STARFOX 2 game). The console also comes complete with 2 controllers, great for retro multiplayer fun. MODDED CONSOLE WITH 100 TOP GAMES + 21 Original.
100 Final Fight 99 Tiny Toon Adventures: Buster Busts Loose! 98 Uniracers 97 Ultimate Mortal Kombat 3 96 Street Fighter Alpha 2 95 Top Gear 2 94 The Adventures of Batman & Robin 93 Super Turrican 2 92 Super Double Dragon 91 Super Star Wars: The Empire Strikes Back 90 Blackthorne 89 Super Bomberman 2 88 Sunset Riders 87 Sparkster 86 Stunt Race FX 85 Spider-Man and Venom: Maximum Carnage 84 Super Tennis 83 Super Star Wars 82 Killer Instinct 81 The Death and Return of Superman 80 Pilotwings 79 Flashback: The Quest for Identity 78 X-Men: Mutant Apocalypse 77 Shadowrun 76 Soul Blazer 75 Madden NFL'94 74 Illusion of Gaia 73 Pocky & Rocky 2 72 Rock n' Roll Racing 71 Jungle Strike 70 Populous 69 Out of this World 68 Kirby's Adventure 67 Mega Man X3 66 The Lion King 65 R-Type III: The Third Lightning 64 International Superstar Soccer 63 Fatal Fury 2 62 Kirby's Dream Land 3 61 Joe & Mac 2: Lost in the Tropics 60 Aladdin 59 NHL'94 58 Donkey Kong Country 3: Dixie Kong's Double Trouble! 57 Earthworm Jim 56 Alien 3 55 Axelay 54 Bust-A-Move 53 Breath of Fire II 52 Ken Griffey, Jr.
S Winning Run 51 Super Ghouls n' Ghosts 50 Yoshi's Cookie 49 Super Bomberman 48 Zombies Ate My Neighbors 47 Kirby Super Star 46 Harvest Moon 45 Gradius III 44 Demon's Crest 43 Breath of Fire 42 EVO: Search for Eden 41 Ogre Battle: March of the Black Queen 40 Earthworm Jim 2 39 Teenage Mutant Ninja Turtles: Turtles in Time 38 Kirby's Dream Course 37 UN Squadron 36 NBA Jam 35 Sim City 34 Lufia II: Rise of the Sinistrals 33 Metal Warriors 32 Legend of the Mystical Ninja 31 Mega Man X2 30 The Lost Vikings 29 Wario's Woods 28 Donkey Kong Country 27 Tetris & Dr. Mario 26 Super Star Wars: Return of the Jedi 25 Mortal Kombat II 24 Contra III: The Alien Wars 23 The Magical Quest Starring Mickey Mouse 22 Mario Paint 21 Super Castlevania IV 20 Super Mario All-Stars 19 ActRaiser 18 F-Zero 17 Super Punch-Out!!
16 Donkey Kong Country 2: Diddy Kong's Quest 15 Tetris Attack 14 Final Fantasy IV 13 EarthBound 12 Mega Man X 11 Secret of Mana 10 Super Mario RPG: Legend of the Seven Stars 09 Star Fox 08 Super Mario Kart 07 Super Mario World 2: Yoshi's Island 06 Super Street Fighter II Turbo 05 Super Mario World 04 Final Fantasy VI 03 Super Metroid 02 Chrono Trigger 01 The Legend of Zelda: A Link to the Past. Excellent condition, items may have some blemishes but near perfect condition! Great condition, items normally have some minor blemishes/marks on the body area - the screen area is always clean! Good condition, items will have some signs of wear on the body and may possibly have some minor surface scratches on the screen area! Fair condition, items will have quite a lot of signs of wear.
This may include dents/scratches/finish wearing off. Poor condition, items marked under this condition will have extreme signs of wear such as cracked digitisers. The item condition grade guideline above is merely informational, please refer to the actual item description for specifics on the condition of the item. Gadgets will include no accessories unless otherwise stated.
Gadgets are tested under a strict policy before being listed, assuring perfect functionality unless otherwise stated. The item "Super Nintendo Mini (SNES MINI) MODDED TOP 100 + 21 Games, Special Delivery" is in sale since Saturday, September 30, 2017.
This item is in the category "Video Games & Consoles\Video Game Consoles". The seller is "gadget-mill" and is located in London. This item can be shipped to United Kingdom, Austria, Belgium, Bulgaria, Croatia, Cyprus, Czech republic, Denmark, Estonia, Finland, France, Germany, Greece, Hungary, Ireland, Italy, Latvia, Lithuania, Luxembourg, Malta, Netherlands, Poland, Portugal, Romania, Slovakia, Slovenia, Spain, Sweden, Australia, United States, Russian federation, Canada, Japan, New Zealand, China, Israel, Hong Kong, Norway, Indonesia, Malaysia, Singapore, South Korea, Switzerland, Taiwan, Thailand, Chile.
Brand: Nintendo
MPN: Does Not Apply