Super Nintendo SNES Classic Edition Mini Modded 300+ Best Games Brand New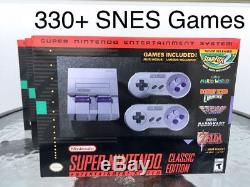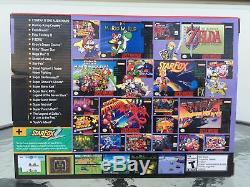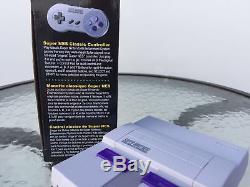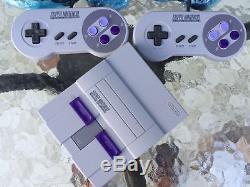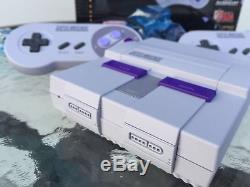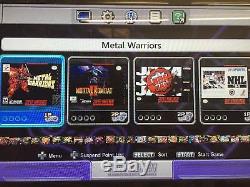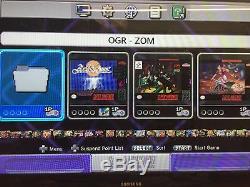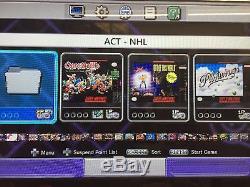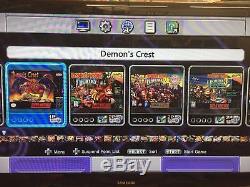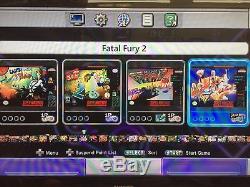 SNES Classic Edition Mini Modded 300+ Best Games - New. Brand New in Box, it was only removed to soft mod and to test the games. Afterwards, it was carefully placed back in its box.
The Super NES Classic Edition system looks and feels just like the original 90s home console, except its super small. Play 330+ classic Super NES games plus gasp the never-before-released Star Fox 2 game!
Two wired Super NES Classic Controllers are included for instant multiplayer action. There are more then 330+ games in the console (including the 21 that it originally came with). After adding the games I wil be making sure that there is 40MB of space left on the console so that there will be enough space for save states/suspend points. If you want any of the games that should be added please let me know so that I can make sure that the game is available on the console! Also be aware that more games means less available storage for save states / suspend points.
I personally wouldn't add anymore games than are already on the console unless you also pick some to remove. All the games added were thoroughly tested but there might still be some games that are not working properly.
Controller Shortcuts (hold down for a second or 2). Select+Down = Reset (you can use this instead of pressing the reset button on the console itself). Select+A/B = Toggle AutoFire on and off for A or B.
Star Fox 2 - Never Released Before. The Legend of Zelda: A Link to the Past. List of Other Games Included in SNES Classic are. Adventures of Batman & Robin, The.
Arcade's Greatest Hits - The Atari Collection 1. Arkanoid - Doh It Again.
Barkley Shut Up and Jam. Battletoads & Double Dragon - The Ultimate Team. Beethoven - The Ultimate Canine Caper! Bill Laimbeer's combat basketball. BlaZeon - The Bio-Cyborg Challenge.
Bubsy in Claws Encounters of the Furred Kind. Bulls versus Blazers and the NBA Playoffs. Chester Cheetah - Too Cool to Fool. Daffy Duck - The Marvin Missions. Donkey Kong Country 2 - Diddy's Kong Quest. Donkey Kong Country 3 - Dixie Kong's Double Trouble! The Duel - Test Drive II.
Final Fantasy - Mystic Quest. Great Circus Mystery Starring Mickey & Minnie, The.
Hagane - The Final Conflict. HAL's Hole in One Golf. Home Alone 2 - Lost in New York. Hunt for Red October, The.
Illusion of Gaia - Not Working. Itchy & Scratchy Game, The - freezing some times. Joe & Mac 2 - Lost in the Tropics. Krusty's Super Fun House. Legend of The Mystical Ninja, The. Lufia & The Fortress of Doom. Lufia II - Rise of the Sinistrals. Magical Quest Starring Mickey Mouse, The. NBA Jam - Tournament Edition.
Ogre Battle - The March of the Black Queen. Pac=Man 2 - The New Adventures. Phalanx - The Enforce Fighter A-144. Power Rangers Zeo - Battle Racers.
RPM - Radical Psycho Machine Racing. Ren & Stimpy Show, The - Fire Dogs. Road Runner's Death Valley Rally. R-Type III - The Third Lightning. Shanghai II - Dragon's Eye. Skuljagger - Revolt of the Westicans. Space Football - One on One.
Spider-Man and the X-Men - Arcade's Revenge. Star Trek - Starfleet Academy Starship Bridge. Super Aquatic Games Starring the Aquabats.
Super Baseball Simulator 1.000. Super Battletank - War in the Gulf. Super Mario World 2 - Yoshi's Island. Super Pinball - Behind the Mask.
Super Star Wars - Return of the Jedi. Super Star Wars - The Empire Strikes Back.
Teenage Mutant Ninja Turtles IV - Turtles in Time. Tiny Toon Adventures - Buster Busts Loose. Ultima - Runes of Virtue II. Ultima VII - The Black Gate.
Ultraman - Towards the Future. Utopia - The Creation of a Nation. Wheel of Fortune - Deluxe Edition.
Wings 2 - Aces High. Ys III - Wanderers from Ys. Let me know if you want to add/change any of the games listed above. While other countries will be required more time. Particularly Customers from France, Malta, Israel, Portugal and Italy, etc, please pay attention to your items will be arrived later because your Post Office process international parcels slowly and your items will also be delayed to exam during the scurity procedure of import in the Custom. We are not responsible for item lost on the way back to us. We are a trader of trustworthy character. We strive to build a long mutual beneficial relationships with our honest customers. We believe every issue can be solved after full communication.
We strive to fulfill every customers satisfaction and cherish every customer. The item "Super Nintendo SNES Classic Edition Mini Modded 300+ Best Games Brand New" is in sale since Thursday, September 07, 2017. This item is in the category "Video Games & Consoles\Video Game Consoles". The seller is "4fashionzone" and is located in Hong Kong.
This item can be shipped worldwide.
A/V Output(s): HDMI
Product Name: Nintendo Super Entertainment System
Type: Home Console
Platform: Nintendo Super NES Classic Edition
Brand: Nintendo
Model: Nintendo Super NES Classic Edition
MPN: 105956
Region Code: Region-Free
Color: Gray
Hard Drive Capacity: 500GB