Super Nintendo SNES Classic Mini Edition 100% Authentic 270+ Games New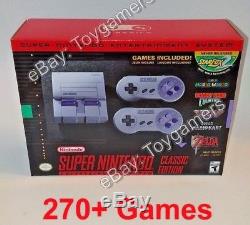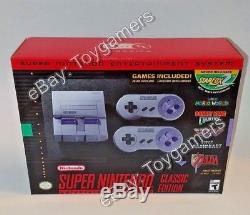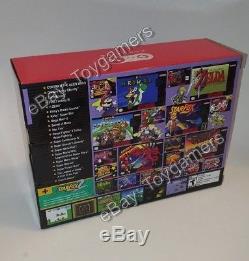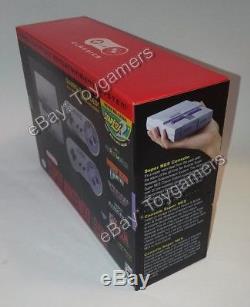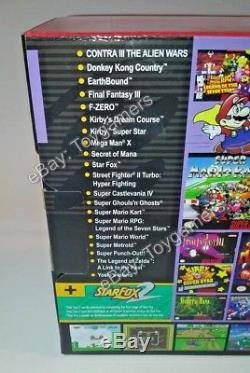 Brand new Nintendo SNES classic mini. Loaded with over 270 games! Features: Quick Reset - Hold down the Select + Down button to quickly reset the system!
Additional Save Slots - save your game progress right where you left off! Proper Box Art Covers - All games have proper box art! Addams Family, The Pugsley's Scavenger Hunt. Adventures of Dr Franken, the. Adventures of Rocky and Bullwinkle and Friends, the. Arcade's Greatest Hits - The Atari Collection 1. Barkley Shut Up and Jam! Best of the best - Championship Karate.
Bill Laimbeer's Combat Basketball. Boxing Legends of the Ring.
Brunswick World tournament of Champions. Bulls vs Blazers and the NBA Playoffs. Captain America and the Avengers. Contra III: The Alien Wars.
Donky Kong Country 2 - Diddys Kong Quest. Double V - The Shadow Falls. Jurassic Park II - The Chaos Continues. Kirby's Dream Land 3. Legend of Zelda, The: A Link to the Past.
Lemmings 2 - The Tribes. Lufia & the Fortress of Doom. Lufia II - Rise of the Sinistrals. Magical Quest Starring Mickey Mouse, the.
Marvel Super Heroes - War of the Gems. Michael Jordan - Chaos in the Windy City. Mickey Mania - The Timeless adventures of Mickey Mouse.
Mighty Morphin Power Rangers - The Movie. NBA Jam - Tournament Edition. Pac-Man 2 - The New Adventures. Pirates of Dark Water, the. Power Rangers Zeo - Battle Racers.
Prince of Persia 2 - The Shadow & The Flame. Ren & Stimpy Show - Fire Dogs. Ren & Stimpy Show - Buckerooes! Ren & Stimpy Show - Time Warp. Ren & Stimpy Show - Veediots! Rex Ronan - Experimental Surgeon. Road Runners Death Valley Rally.
Roance of the Three Kingdoms II. Shanghai II - Dragon's Eye. SimAnt - The Electronic Aunt Colony.
SimEarth - The living Planet. Simpsons, the - Barts Nightmare. SPider-Man and the X-Men - Arcades Revenge. Star Trek - Deep Space Nine - Crossroads of Time. Star Trek - Starfleet Academy - Starship Bridge Simulator.
Street Fighter II Turbo: Hyper Fighting. Super Baseball Simulator 1.000. Super Battletank - War in the Gulf. Super Mario All Stars + Super Mario World.
Super Mario RPG: Legend of the Seven Stars. Super off road - The Baja.
Super Shadow of the Beast. Super Star Wars Return of the Jedi. Super Star Wars the Empire Strikes Back. Super Street Fighters II - The New Challengers. Tecmo Super Bowl II - Special Edition.
Tecmo Super Bowl III - Final Edition. Teenage Mutant Ninja Turtles - Tournament Fighters.
Teenage Mutant Ninja Turtles IV - Turtles in Time. Terminator 2 - Judgement Day. The Legend of Zelda: A Link to the Past. Ultima - Runes of the Virtue II. Ultima VI - The False Prophet. Ultima VII - The Black Gate. Ultraman - Towards the Future. War 3010 - The Revolution. Super NES Classic Edition system.
2 Super NES Classic Controller. The item "Super Nintendo SNES Classic Mini Edition 100% Authentic 270+ Games New" is in sale since Monday, September 3, 2018. This item is in the category "Video Games & Consoles\Video Game Consoles".
The seller is "toygamers" and is located in Toronto, ON. This item can be shipped to Canada, United States.
A/V Output(s): HDMI
Brand: Nintendo
Model: Nintendo Super NES Classic Edition
Platform: Nintendo Super NES Classic Edition
Color: Gray
Region Code: Region-Free
Hard Drive Capacity: 512MB
MPN: 105956