Clock Tower / Clocktower English SNES Super Nintendo Sealed in Box NTSC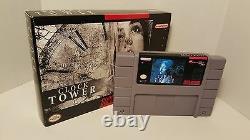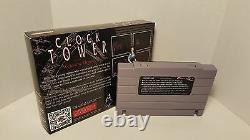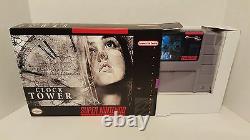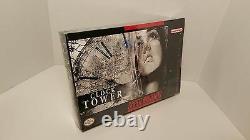 The interface is akin to computer adventure games of the 1990s, but simplified to work better with a gamepad. Clock Tower is unique among adventure games of the era in that it features a stalker pursuing the main character; this delays puzzle solving and requires the player to run in order to find objects or hiding places to fend off or avoid the attacker. The stalker is a 9-year-old slasher named Bobby Barrows/Scissorman, who wields a large pair of scissors.
If directly confronted by Bobby, the player engages in a "panic" phase and must repeatedly pound the "panic button" to attack the enemy. If Jennifer is low on health, or the player does not tap the panic button fast enough, Bobby will attack Jennifer and the player will be presented with a "Dead End" screen. Although the game refers to it as Jennifer's health, the color of the background where her face is shown changes to represent her current fear level.
Blue means she is in a calm state, while yellow means she is startled, orange means she is alarmed, and finally red means she will begin to panic. In the red state, she is more likely to be attacked during a direct confrontation with Bobby. Additionally, while running away from Bobby, there is a chance she might trip over, making her vulnerable if Bobby is close by. Many of Bobbys appearances are triggered by the player inspecting certain objects, but there are some cases in which he will come out of a hiding place and chase Jennifer as soon as she enters a room. This is the English version of the game, never before released in America on the Super Nintendo. Experience the beginnings of a classic that would be remade several times over, on your home console!
All of our games have a brand new case, made fresh! We do not reuse old titles for our cases.
Circuit boards are also brand new, created just for SNES games. We do not solder new chips onto old sports titles.
Labels are high quality gloss, for a reflective shine in the light. Game cart comes sealed in a collector's game pouch.
A cardboard insert makes sure the game cart doesn't rattle around inside the box. Box itself is new and sealed fresh from the factory! Pictures were taken before it was sealed, and it is not opened.
Brand new from Immortal Gems! This may sometimes be longer depending on our workload/real life responsibilities, as we're only a small group of people. We take pride in our games and want them to arrive to you in perfect condition!
Games are all tested on real hardware before being packaged. As we cannot completely play through each and every game we produce, and opinions vary drastically between person to person, we can only guarantee the hardware we sell and not the game itself. Are your games PAL or NTSC? We should be able to provide most games in PAL region as well. Do your games come with Manuals?
Unfortunately, we currently do not offer any Manuals with our games. Is this game in English? All of our games are in English. They're either English translations from Japanese games that never got released in America, or they're ROM Hacks, but all our games are English unless stated otherwise.
The item "Clock Tower / Clocktower English SNES Super Nintendo Sealed in Box NTSC" is in sale since Friday, March 6, 2020. This item is in the category "Video Games & Consoles\Video Games". The seller is "immortal-gems" and is located in Searcy, Arkansas. This item can be shipped worldwide.
Region Code: NTSC-U/C (US/Canada)
Publisher: Unbranded
Genre: Survival Horror
Platform: Super Nintendo
Game Name: Clock Tower