Genuine Nintendo SNES Classic Super NES HACKED PRO MODDED TECMO SUPER BOWL 2019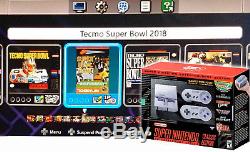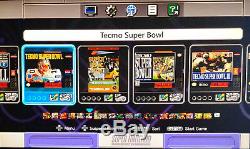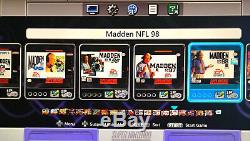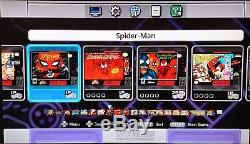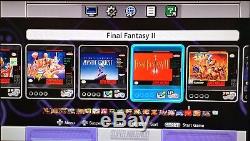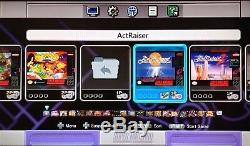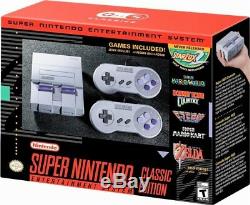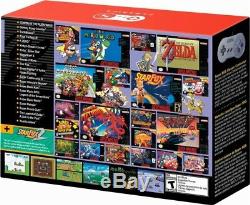 Also available (check my other listings) NES Classic with full U. Super Nintendo Classic Edition, brand new.
The additional games include IGN's list of TOP 100 SNES games of all time, as well as all of the top-rated games and fan favorites which did not make IGN's list! Retail edition, not an import from another region or foreign knock-off. Printed materials, and poster are included. Do not accept imports with other UPC codes.
Packaging will be opened for expert installation of 270 additional games and cover art. Optional - If your favorite games are not on the list, you can have me substitute up to 10 games.
Repackaged neatly with no sign that it was opened. Adequate storage space remains for use of save states and game rewind functions.
Select options such as reset-from-controller and turbo toggle are also enabled with instructions included. 21 Original SNES Classic Games: Contra III - The Alien Wars Donkey Kong Country Earthbound Final Fantasy III F-Zero Kirby Super Star Kirby's Dream Course Legend of Zelda - A Link to the Past Mega Man X Secret of Mana Star Fox Star Fox 2 Street Fighter II Turbo Super Castlevania IV Super Ghouls N Ghosts Super Mario Kart Super Mario RPG - Legend of the Seven Stars Super Mario World Super Mario World 2 - Yoshi's Island Super Metroid Super Punch Out In addition to the 21 games listed above, the following 270 games listed below will be added, for a total of 291: Act Raiser Act Raiser 2 Addams Family Addams Family Pugsley's Scavenger Hunt Adventures of Batman and Robin Adventures of Dr. Franken Aero Fighters Aladdin Alien 3 Alien vs Predator Animaniacs Arcades Greatest Hits Atari Collection Arcades Greatest Hits Williams Arkanoid Doh it Again Axelay B. Search for Eden Earthworm Jim Earthworm Jim 2 Eye of the Beholder Family Feud Fatal Fury Fatal Fury 2 Final Fantasy Mystic Quest Final Fantasy II Final Fight Final Fight 2 Final Fight 3 Firemen, The Flashback The Quest for Identity Frogger Gemfire Ghoul Patrol Gods Goof Troop Gradius 3 Hagane - The Final Conflict Harvest Moon Home Alone Home Improvement Hook Illusion of Gaia Indiana Jones Greatest Adventures Inspector Gadget International Superstar Soccer Itchy & Scratchy Game Jeopardy Joe & Mac Joe & Mac 2 - Lost in the Tropics John Madden Football John Madden Football 93 Judge Dredd Jungle Book Jungle Strike Jurassic Park Jurassic Park 2 Ken Griffey Jr. Major League Ken Griffey Jr.
Winning Run Kid Klown in Crazy Chase Killer Instinct King Arthurs World King of Dragons King of the Monsters Kirby's Avalanche Kirby's Dream Land 3 Knights of the Round Legend of the Mystical Ninja Lemmings Lester the Unlikely Lion King Lost Vikings Lufia & the Fortress of Doom Lufia 2 - Rise of the Sinistrals Madden NFL 94 Madden NFL 95 Madden NFL 96Madden NFL 97 Madden NFL 98 Magic Sword Magical Quest Starring Mickey Mouse Mario is Missing Mario's Time Machine Marvel Super Heroes - War of the Gems Maui Mallard in Cold Shadow Mega Man 7 Mega Man Soccer Mega Man X2 Mega Man X3 Metal Marines Metal Warriors Micro Machines Might and Magic 3 Isles of Terra Monopoly Mortal Kombat Mortal Kombat 2 Mortal Kombat 3 Mr. Pac-man NBA Jam NBA Jam Tournament Edition NBA Live 95 NBA Live 96 NHL 94 Ninja Gaiden Trilogy Ogre Battle - The March of the Black Queen Out of This World Pac-Attack Pac-in-Time Pac-Man 2 The New Adventures Pagemaster Paperboy 2 Phalanx Pilotwings Pinocchio Pirates of Dark Water Pitfall The Mayan Adventure Pocky & Rocky Pocky & Rocky 2 Populous Porky Pig's Haunted Holiday Primal Rage Prince of Persia Prince of Persia 2 - The Shadow & The Flame Q-bert 3 Ren & Stimpy Show - Buckeroos Ren & Stimpy Show - Fire Dogs Ren & Stimpy Show - Time Warp Ren & Stimpy Show - Veediots Road Runners Death Valley Rally RoboCop 3 RoboCop vs Terminator Terranigma Rock N Roll Racing Rocko's Modern Life - Spunkys Dangerous Day R-Type 3 Samurai Showdown Saturday Night Slam Masters Scooby Doo Mystery Secret of Evermore Shadowrun Shaq Fu Side Pocket Sim Ant SimCity SimCity 2000 Simpsons Barts Nightmare SoulBlazer Space Ace Space Invaders - The Original Game Sparkster Spawn Speedy Gonzalez - Los Gatos Bandidos Spider-Man Spider-Man & Venom Maximum Carnage Spider-Man & X-Men Arcades Revenge Street Fighter Alpha 2 Stunt Race FX Sunset Riders Super Adventure Island Super Adventure Island 2 Super Black Bass Super Bomberman Super Bomberman 2 Super Bonk Super Bowling Super Buster Bros.
Super Double Dragon Super Godzilla Super James Pond Super Mario All Stars Super Ninja Boy Super Off Road Super Pinball - Behind the Mask Super R-Type Super Smash T. Super Star Wars Super Star Wars - Empire Strikes Back Super Star Wars - Return of the Jedi Super Tennis Super Turrican Super Turrican 2 Super Valis IV Swat Kats - The Radical Squadron T2 - The Arcade Game Taz-Mania Tecmo Secret of the Stars Tecmo Super Baseball Tecmo Super Bowl Tecmo Super Bowl II - Special Edition Tecmo Super Bowl III - Final Edition Tecmo Super Bowl 2018. Terminator 2 Judgement Day Tetris & Dr. Mario Tetris 2 Tetris Attack The Tick Timon & Pumbaa's Jungle Games Tiny Toon Adventures - Buster Busts Loose Tiny Toon Adventures - Wacky Sports Challenge Teenage Mutant Ninja Turtles - Tournament Fighters Teenage Mutant Ninja Turtles IV - Turtles in Time Tom & Jerry Top Gear Top Gear 2 Total Carnage Toy Story Twisted Tales of Spike Mcfang U. Squadron Ultima - Runes of Virtue Ultima VI - The False Prophet Ultima VII - The Black Gate Ultimate Mortal Kombat 3 Uniracers Venom & Spider-Man - Separation Anxiety Wario's Woods Wayne's World Wheel of Fortune Wild Guns Wizard of Oz Wizardry V - Heart of the Maelstrom Wolfenstein 3D Wolverine - Adamantium Rage WWF RAW WWF Royal Rumble X-Men - Mutant Apocalypse Yoshi's Cookie Y's III - Wanderers from Y's Zero the Kamikaze Squirrel Zombies ate my Neighbors Zool - Ninja of the Nth Dimension Optional - If your favorite games are not on the list, you have the option of having me substitute up to 10 games.
The SNES Classic Edition has limited space available, and games vary in size. For each game you wish to add, name two games you're ok with having removed. Games from your removal list will be subtracted until adequate space remains for your list of additions. The item "Genuine Nintendo SNES Classic Super NES HACKED PRO MODDED TECMO SUPER BOWL 2019" is in sale since Friday, March 22, 2019.
This item is in the category "Video Games & Consoles\Video Game Consoles". The seller is "eighttwo82" and is located in Excelsior, Minnesota. This item can be shipped to United States, Canada.
Non-Domestic Product: No
Bundle Listing: No
Modified Item: No
Country/Region of Manufacture: China
Custom Bundle: No
Type: Microconsole
A/V Output(s): HDMI
Brand: Nintendo
Model: Nintendo Super NES Classic Edition
Platform: Nintendo Super NES Classic Edition
Color: Gray
Region Code: Region-Free
Hard Drive Capacity: 512MB
MPN: 105956