Mega Man 7 snes Versión Españolizada Super Nintendo Completo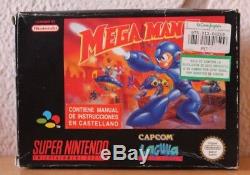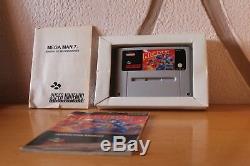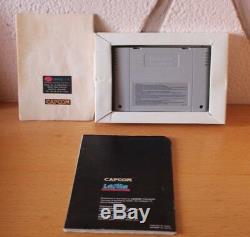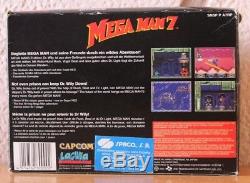 Descripción concreta del estado : Pedir más fotos sin compromiso. A CANARIAS NO SE ENVIA.
DESPISTADO LO COMPRA , SE CANCELARA. > Si se abre caso por pago no autorizado y no se ha mandado previamente mensaje para solucionarlo , se tratara como intento de estafa y se.
SUDAMÉRICA tendrán que aceptar estas condiciones legales si quieren que se les mande el producto. Nos nos hacemos cargo de posibles perdidas por parte de la empresa de transporte se. No nos hacemos cargo si el paquete se queda retenido en ADUANAS. No nos hacemos responsables si compras un juego PAL (EUROPA) y no te funciona porque tienes un consola NTSC (AMERICA). En caso de dar problemas a pesar de haber aceptado estas condiciones se.
A denunciar al usuario por in. Tal y como se ve en las fotos, para cualquier duda consultar a través de mensaje privado. En su mayoría son productos de segunda mano , por lo que a pesar de que se envían probados, es posible que alguno no funcione del todo bien, si es así por favor contactar con nosotros lo antes posible.
Si se emite un voto neutral , negativo o abre caso sin hablar con nosotros, automáticamente nos desentendemos del cliente y de sus posibles quejas. Si ocurre esto (que no es muy habitual) se cancelara el pedido. Se ruega comprensión en estos casos. No se aceptan ofertas así que, por favor, absténgase de hacerlas ya que no tendrán contestación. Los compradores tienen un plazo de.
Para realizar el pago, si no se ha recibido el pago en este periodo y no se tienen noticias del comprador se. Procederá a abrir caso por impago. Valoramos mucho la opinión de nuestros clientes, por lo que si has tenido una experiencia positiva y no nos dejas un voto positivo , no nos interesa que nos vuelvas a comprar nada.
Si vas a pagar por transferencia , es obligatorio avisar y enviarnos un justificante de pago. Se hacen envíos combinados, si estas interesado en varios productos avísanos para el precio del envió. Mostly are products of second hand , so before we send the product we try to check if it works properly. As you can see in the photos, if you have any doubt please send a message. Offers are not accepted, so please don't make any offer because it will have no response.
It´s not usual, but if this happen we ask understanding. The order will be immediately cancel. You have 4 days to pay the product or send a message in order to tell us when you have the intention to pay. If we don´t know anything about you in this period of time we will open case for default.
Argazkietan ikusten den bezala, edozein zalantza baldin badaukazu mesedez mezu bat bidali. Ia produktu guztiak bigarren eskukoak dira, hortaz, izan daiteke baten bat behar den bezala ez duela funtzionatzen, kasu hauetan mesedez mezu bat bidali arazoa konpontzeko.
Hala ere, bidali baino lehen frogatzen dugu ea ongi joaten diren. Boto negatibo edo neutral bat ematen baldin bada ez gara kezkatuko bezeroak izan ahal duen kexari buruz. Hau ez askotan gertatzen, baina kasua ematen baldin bada ulermena eskatzen dugu.
Ez egin inolako eskaintzarik, izan ere hauek ez dute inolako erantzunik jasoko. 4 egun daukazu ordainketa burutzeko edo behintzat mezu bat bidaltzeko esateko noiz ordainduko duzun. Bestela ez ordaintze kasua irekiko da. Zure iritzia asko baloratzen dugu, horregatik esperientzia positibo bat izan baldin badezu eta ez diguzu zure boto positiboa ematen hurrengorako ez zara ongi etorria izango. Transferentzia baten bidez ordaintzen baldin badezu, mesedez abisatu behar da , baita ordainketa justifikantea bidali ere.
Bidalketa konbinatua egiten da, interesatuta baldin bazaude, bidali mezu bat gehiago jakiteko prezioei buruz. Euskadi - RetroGames - 013. The item "Mega Man 7 snes Versión Españolizada Super Nintendo Completo" is in sale since Monday, October 2, 2017. This item is in the category "Consolas y videojuegos\Videojuegos".
The seller is "euskadi-retrogames-013" and is located in Vitoria-Gasteiz. This item can be shipped worldwide.