SD2SNES MegaSaveCart & Development forSuper Nintendo+ 8GB ¡NUEVO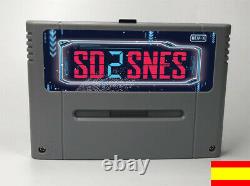 SNES - SD2SNES Everdrive + MicroSD 8GB ¡NUEVO! SD2SNES te hace retroceder al pasado. Con una robusta carcasa, desenpolva tu vieja Super Nintendo / Super Famicom y resucítala para convertirla de nuevo en una máquina de juegos infinita.
Slot de memoria de tarjeta MicroSD de alta calidad. Presiona ligeramente para insertar la tarjeta o extraerla. Alta velocidad de carga (9MB/s). Los directorios de los archivos son acortados automáticamente, sin necesidad de utilizar aplicaciones externas. Menú de alta resolución (512×224) para un adecuado visionado de los archivos con nombres largos.
Soporte de ROM de tamaño hasta 128MBit (96Mbit actualmente implementado). Salvado automático en la SRAM salvando posteriormente en la tarjeta SD (mientras el juego funciona). Algunas limitaciones en ello (el salvado en la SRAM es periódico pero cuando un juego utiliza dicha memoria de forma similar al uso de la RAM). Salvado automático es desconectado cuando el chip MSU1 está en uso. SRAM es guardado hasta el reseteo.
Chips adicionales soportados, ver listado más abajo. SuperCIC key (SNES CIC clone) (Se activa en consolas no modificadas de todas las regiones). Soporte de 50/60Hz en consolas con el chip SuperCIC solamente (para ser llevado por el firmware del Sd2Snes, aunque no implementado).
Parcheo auto-region elimina el texto: This Game Pak is not designed, mensaje adaptado al ajuste de 50/60Hz. BS-X memory map / Satellaview base unit registers (clock).
El cartucho utiliza una carcasa multi-región, el cartucho encajará en consolas Euro/Usa/Jap. (x1) SD2SNES - (x1) MicroSD 8GB. SD2SNES makes you return to the past.
With a hard case, dust off your Super Nintendo / Super Famicom and starts reborning all your favorite games transforming your system in an infinite game machine. High quality push-push memory card slot. Directories are sorted automatically, no need for FAT sorting tools.
High resolution menu (512×224) for adequate display of long file names. Supports ROM size up to 128MBit (96Mbit actually implemented). Automatic near-time SRAM saving to SD Card (while the game runs). Some limitations apply (near-time saving is switched to periodic saving when a game is found to use the SRAM as work RAM).
Automatic saving is disabled when MSU1 is used. SRAM is saved on reset.
Enhancement chip support (see below for implementation status). SuperCIC key (SNES CIC clone, e nables operation on unmodified consoles of all regions).
Supports software 50/60Hz switching on SuperCIC enhanced consoles only (to be performed by sd2snes firmware, not yet implemented there). Auto region patching: eliminates This Game Pak is not designed messages regardless of 50/60Hz setting. Cartridge uses custom made multi region shell.
It fits in both american and euro/jap systems. (x1) SD2SNES - (x1) 8GB MicroSD.
Contrarrembolso sólo se envía a usuarios con al menos 10 votos positivos , y tiene un sobrecargo (de la agencia) de 3'5%. Informaremos al cliente de esto si elige esa forma de pago.
Los envíos se realizan a toda la Península y Baleares , incluyendo Portugal. Los envíos se realizan por certificado, o por agencia, dependiendo del peso y condiciones del envío. Envío asegurado, si se pierde, reponemos otro una vez confirmada su pérdida.
Entrega en 3 a 6 días laborables (sábado y domingo no los contamos como días de envío-entrega). Si se demora la entrega, contacta inmediatamente con nosotros, o con Correos o la agencia según los datos que dispongas sobre el envío. Es posible que para Canarias esté limitado el envío de este producto, recomendamos contactar previamente. El DNI es imprescindible en el envío a Canarias.
All the items are delivered to Spain and Portugal. Devoluciones aceptadas durante los siguientes 30 días de compra, siempre que el artículo esté precintado, sin abrir, sin marcas de uso, y siempre y cuando el comprador cargue con los gastos de envío.
Si el artículo está en mal estado, llegó roto, o cualquier incidencia en la entrega, rogamos contacte previamente con el transportista para anotar la incidencia antes de tramitar una devolución o cambio. Si el artículo está defectuoso, la tramitación de garantía dependerá del producto para ver si se tramita directamente con nosotros, o con el fabricante. El comprador debe remitir la mercancía defectuosa para su correspondiente cambio, en caso de que se produjera cualquier incidencia (aunque no es habitual). Debido a las características del producto, no será posible su cambio si se rompe durante su instalación si su instalación requiere ciertos conocimientos electrónicos. If there is any problem with the item, it´s broken, or there is anything different on it, please, mark it when you get it, and don´t open it. Please, inform us and inform the courier, immediatelly.
Due the features of the item, we can´t change the item if it´s broken during installation. We recommend to be installed by someone with some electronic knowledge. Votamos a todas las transacciones entre 15-20 días después de confirmar que llegó correctamente el envío.
Si no te llega el voto, avísanos : pero por favor, no es necesario que nos recuerdes inmediatamente después de recibir la compra que te debemos un voto. Si crees que la transacción merece neutral o negativo, ¡¡contacta antes!! Si el producto no funciona, tiene solución; si el transporte se ha retrasado, no nos culpes de ello : ; si ha habido confusión en la entrega o producto, tiene solución... Consideramos zanjada la compra si el comprador emite su voto en ella.
No dejes que un mal voto arruine nuestra transacción. If there is any problem with the item, please, don´t vote!!
Wait to get a solution. The item "SD2SNES MegaSaveCart & Development forSuper Nintendo+ 8GB ¡NUEVO" is in sale since Monday, March 29, 2021.
This item is in the category "Consolas y videojuegos\Consolas". The seller is "uenjoyshop" and is located in Alicante. This item can be shipped to North, South, or Latin America, all countries in Europe, all countries in continental Asia, Australia.
Plataforma: Super Nintendo / Super Famicom
MPN: B01HYK7MVS
Marca: SD2SNES
Modelo: Super Nintendo / Super Famicom
Garantía del fabricante: 1 año
Anuncio de conjunto: No