SNES Super Nintendo classic edition mini game console Entertainment System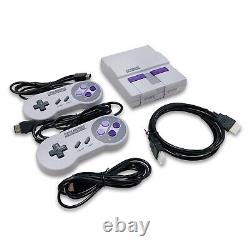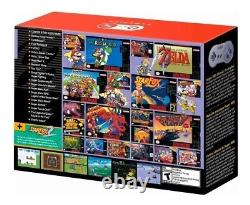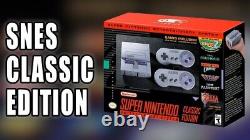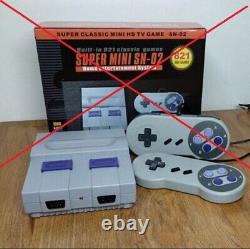 21 classic super nintendo games included built in and ready for play. The Legend of Zelda: A Link to the Past. Super Mario Kart Secret of Mana Super Mario RPG: Legend of the Seven Stars Mega Man X. Street Fighter II Turbo Super Punch Out.
Super Mario World 2: Yoshi's Island F-Zero. Kirby Super Star Contra III. StarFox Super Ghouls'N Ghosts. Impressed us as both as a collectible and as a way to experience gaming history.
The miniature Nintendo Entertainment System with matching, full-sized controller, loaded with a selection of 30 NES games from across the system's lifespan, was a fan's dream come true. Now Nintendo is moving on to the next generation of gaming with the Super NES (or SNES) Classic Edition. The NES Classic Edition was plagued with availability issues. Even a year later, your best bet at finding one is paying several times the system's original price tag from a reseller. Nintendo has claimed that the SNES Classic will be more readily available at launch, but we won't be certain until we see (or don't see) it on shelves for ourselves.
The SNES Classic is a miniature SNES, just like the NES Classic is a miniature NES. The system measures 1.6 by 4.2 by 5.2 inches (HWD), making it closer in size to a SNES game cartridge than the original SNES itself. Size nonwithstanding, the resemblance to the Super Nintendo Entertainment System is uncanny. It's shaped identically, with a prominent rectangular protrusion running horizontally across the top and holding the nonfunctional cartridge slot. The Power and Reset controls are rectangular purple buttons on their own vertical ridges, flanking a nonfunctional Eject button that's a darker gray than the rest of the system.
The front appears to hold miniature versions of the SNES gamepad connector, but this is a facade. They're actually molded details on a panel that pulls out to reveal a pair of NES Classic-style (and Wii-style) connectors. A small red power LED to the left of the connectors lights up when the system is on, just like the original SNES. The back of the machine foregoes any nostalgically molded faux connectors and simply holds a micro USB port for power and an HDMI port for connecting the system to your TV HDMI and USB cables.
Two SNES-style controllers are included, a notable upgrade from the NES Classic and its single included gamepad. The classic dog bone-style controller looks and feels identical to the original, right down to the convex purple A and B and concave lavender X and Y buttons. While the SNES Classic has only 21 games compared with the NES Classic's 30, they're all bigger, more engaging titles. More importantly, they're all fantastic, without a single dud on the list.
That's good, because like the NES Classic, the SNES Classic is a completely closed system; there's no internet connectivity, or any supported way to update the device or add new games. Out of the 21 games on the SNES Classic, 13 are from Nintendo itself, and while your mileage may vary, I conservatively count at least seven absolute classics among them: Donkey Kong Country, Earthbound, Kirby Super Star, Super Mario World, Super Mario World 2: Yoshi's Island, Super Metroid, and The Legend of Zelda: A Link to the Past. While their Nintendo 64 sequels are far superior, the SNES Classic also has F-Zero, Star Fox, and Super Mario Kart.