SNES Super Nintendo Classic Mini Console (CLV-201) 8500+ Extra Games microSD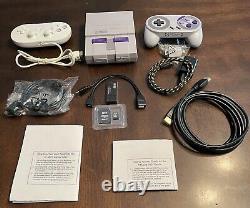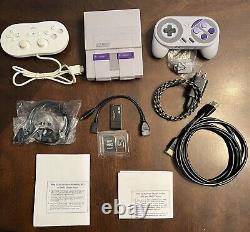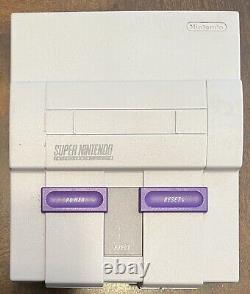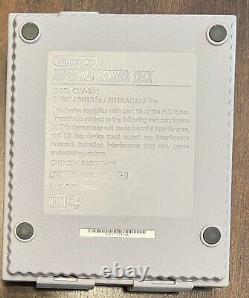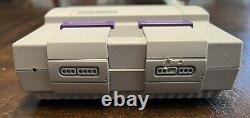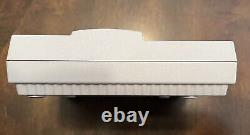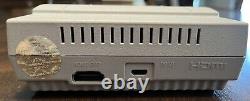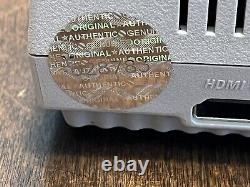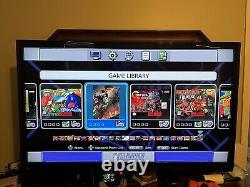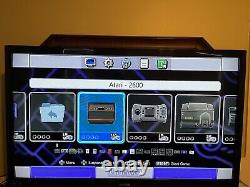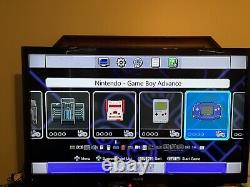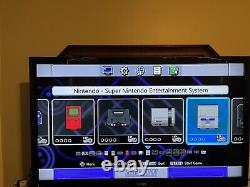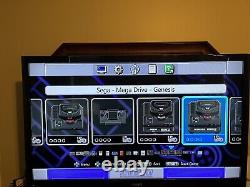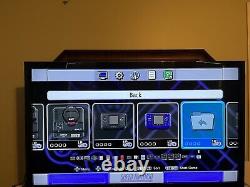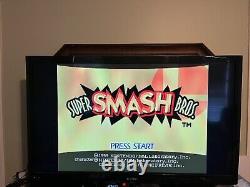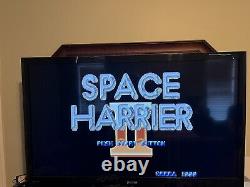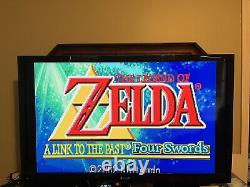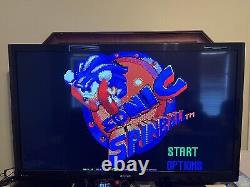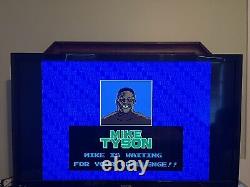 For sale is an Authentic SNES Classic Mini Gaming System listed. The item is the pictured gently used Authentic Nintendo Classic Mini console tested and working.
The system has a program that reads micro SD cards for 8500+ extras (Games). It comes with a OTG Y adapter, 2 slightly used controllers (1 authentic Wii classic controller controller for NES / SNES / OTHER SYSTEMS & 1 SNES Pro Style wireless controller with turbo capabilities - the battery cover has been repaired to stay on the back of the controller, as seen in the picture), a controller extension cable, a power cord with a with power block, a HDMI cable, and a USB Thumb Drive with a micro SD card that has over 8500 extras on it from different major systems across the 70s, 80s, and 90s, aTaR! Since this is a pre-owned system, there may be slight signs of wear. See the photos of the actual system, with accessories you will receive.
This Super Nintendo classic mini is the real deal. If they don't show you the serial number, clear pictures, or only stock photos, it's probably fake. YES it is Plug and Play! Just hook it up and turn it on and your ready to go. No tricky software installation and no bait and switch.
What you see in the pictures is what you will receive. Again, follow the included instructions.
The system has been modded. I guarantee the system and the original games that come on the system will work. Mishandling the system and accessories may corrupt the ability to read or use a micro SD card. I will not be responsible for broken parts or a corrupt micro SD card.
I have not personally played all of the 8500+ extra Gs, but the major title Gs on the system and sub-systems play very well, Zeldas, Mike Tyson's Punch Out, Sonics, Mega Mans, Marios, Ghost's & Goblins, Castlevanias, Pokemon, TMNT, etc. Way too many to list. I only charge for the system with its original games and accessories. Any extra+ Gs that comes with the package are free. You can access cheats, just like the original NES or SNES by pressing the cheat buttons, or select games that used the Game Genie and Game Shark of old, they can glitch the game, so expect some frustration with them.
See the game cheats instructions. You can also remap controllers in the first step. Also do not take off the security sticker for system integrity until you are satisfied. There may be a game here and there that may not run, but the major games work great. Everything, except the console and power block, are brand new.
I stand behind the items I sell. If I wouldn't be happy with it, I wouldn't sell it. Thank you for your interest.